Tracking Students – Degrees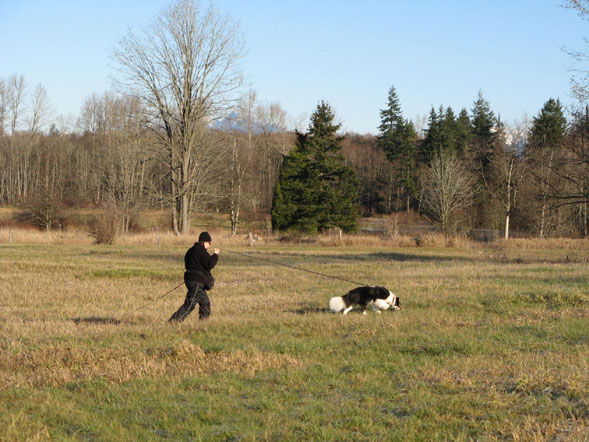 The above picture shows Margaret Galan with Chase AM TD Border Collie working towards AM TDX title.
Surrey Dog Obedience Training Club
CKC and AKC Tracking Degrees
Congratulations to all the Students and their Companions for the hard work and time spent in accomplishing their DREAMS. It has and continues to be a pleasure to have in some way assisted you in reaching your goals.
If we have inadvertently omitted you and your companion from our list of students and degrees please advise us of this omission. We will then see that the information is added.
Gary
| Last Name | First Name | Breed of Dog | Dog's Name | Degree |
| --- | --- | --- | --- | --- |
| Adams | David | German Shepherd | Ryker | TD |
| Ammann | Karleen | German Shepherd | Frisco | TD |
| Ammann | Karleen | German Shepherd | Lea | AM.TD |
| Ammann | Karleen | German Shepherd | Frisco | AM TD |
| Ammann | Karleen | German Shepherd | Frisco | AM TDX |
| Ammann | Karleen | German Shepherd | Frisco | TDX |
| Ammann | Karleen | German Shepherd | Lea | TDX |
| Ammann | Karleen | German Shepherd | Lea | TD |
| Ammann | Karleen | German Shepherd | Emma | TD |
| Ammann | Karleen | German Shepherd | Nitro | TD |
| Anderson | Margaret | German Shepherd | Shadow | TD |
| Anderson | Ginny | German Shepherd | Maximus | TD |
| Backosti | Bonnie | Golden Retriever | Tessa | TD |
| Baldwin | Martha | Australian Shepherd | Austen | TD |
| Battley | Eileen | Golden Retriever | Megan | TD |
| Battley | Eileen | Golden Retriever | Meara | AM.TD |
| Battley | Eileen | Golden Retriever | Meara | TD |
| Beaulieu | Carol | Golden Retriever | Barley | TD |
| Belanger | Roland | Am. Cocker Spaniel | Rock n Roll | TD |
| Boliver | Anne | Weimaraner | Hailey | AM.TDX |
| Brace | Anita | German Shepherd | Smokey | TD |
| Brady | Gayle | Chesapeake Retriever | Fletcher | AM.TD |
| Brady | Gayle | Chesapeake Retriever | Fletcher | TD |
| Brady | Gayle | Chesapeake Retriever | Fletcher | TDX |
| Bruner | Judy | Cairn Terrier | Amy | TD |
| Bysterveld | BiBi | Irish Setter | Sarah | TD |
| Chorney | Ernie | Golden Retriever | Ginger | TD |
| Christy | Jane | Golden Retriever | Steamer | TD |
| Cook | Doug | German Shepherd | Harvey | TD |
| Curran | Joy | Bulldog | Clemmie | TD |
| Davidson | Bill | German Shepherd | Dubhgall | AM.TD |
| Davidson | Bill | German Shepherd | Dubhgall | TD |
| Deane | Stacey | German Shepherd | Storm | TD |
| Denison | Maja | Beagle | CB | TD |
| Dick | Bonnie | Basenji | Krammer | TD |
| Dick | Bonnie | Bernese Mountain Dog | Banfield | TD |
| Dick | Bonnie | Pomeranian | Nelson | TD |
| Doman | Dave | Golden Retriever | Penny | TDX |
| Doman | Tony | Golden Retriever | Penny | TD |
| Doman | Dave | Golden Retriever | Whistler | TD |
| Doman | Dave | Golden Retriever | Sarah | TD |
| Doman | Dave | Golden Retriever | Whistler | TDX |
| Doman | Dave | Golden Retriever | Misty | TD |
| Doman | Dave | Golden Retriever | Gizmo | TD |
| Dornan | Carrie | Bullmastiff | Johnny | TD |
| Downie | Peg | Bassett Hound | Samantha | TD |
| Dyer | Rosemary | Golden Retriever | Rocky | TD |
| Egyed | Kathleen | Weimaraner | Schatzee | TD |
| Ergyd | Kathy | Weimaraner | Cody | TD |
| Eskuri | Jane | English Cocker | Sailor | TD |
| Fenton | Doug | Golden Retriever | Abel | TD |
| Fergusson | Bonnie | Newfoundland | Meara | TD |
| Finch | Sandra | Weimaraner | Berkley | TD |
| Furstenwald | York | German Shepherd | Brodie | TD |
| Furstenwald | York | German Shepherd | Brodie | TDX |
| Galan | Margaret | Border Collie | Chase | TD |
| Galan | Margaret | Border Collie | Chase | AM.TD |
| Gear | Lynn | Springer Spaniel | Eko | TDX |
| Geschke | Marion | Chesapeake Retriever | Chelsea | TD |
| Geschke | Marion | Chesapeake Retriever. | Chelsea | TDX |
| Gray | Eula | Min. Dachshund | Tia 11 | TD |
| Hall | Avril | Rhodesian Ridgeback | Little Big Man | TD |
| Harward | Kathy | English Cocker | Caper | TD |
| Harward | Kathy | English Cocker | Salty | TD |
| Highton | Susan | Golden Retriever | Murphy | TD |
| Hunt | George | German Shepherd | Brutus | TD |
| Irving | Judy | Black Lab | Ceilidh | TD |
| Jeske | Agnes | Belgium Sheepdog | Kyna | TD |
| Jones | Jane | Belgium Sheepdog | Raia | TD |
| Kadoke | Heidi | Pembroke Welsh Corgi | Brill | TD |
| Koch | Jill | Pointer | Ponty | TD |
| Krimmer | Lorraine | Golden Retriever | Mindy | TD |
| Krimmer | Lorraine | Golden Retriever | Kat | TD |
| Lang | Elsie-May | Australian Shepherd | Brandi | TD |
| Larsen | Michelle | Rottweiler | Bea | TD |
| LeBlanc | Mark | Bloodhound | Billie | TD |
| Logan | Doug | German Shepherd | Apollo | TD |
| Logan | Doug | German Shepherd | Apollo | TD |
| MacDonald | Janet | Norfolk Terrier | Cromer | TD |
| MacDonald | Janet | Min. Schnauzer | Tuppy | TD |
| Mackie | Tom | Eng. Cocker Spaniel | Merlin | TD |
| Matthew | Wayne | Rottweiler | Brew | TD |
| McDonald | Bonnie | German Shepherd | Brinks | TD |
| McGregor | Karen | Black Lab | Mac | TD |
| McMillan | Betty | Springer Spaniel | Emma | TD |
| McMillan | Betty | English Springer | Molly | TD |
| Mercer | Richard | German Shepherd | Issac | AM.TD |
| Mercer | Richard | German Shepherd | Issac | TD |
| Mercer | Richard | German Shepherd | Issac | AM.TDX |
| Mingo | Jenny | Bernese Mountain Dog | Bobby | TD |
| Moore | Erin | Whippet | Jenny | TD |
| Neil | Maureen | Belgium (Malinois) | Sally | TD |
| Neil | Rose Marie | German Shepherd | Shayna | TD |
| Neil | Maureen | German Shepherd | Nateia | TD |
| Newland | Sally | Newfoundland | Sasquatch | TD |
| Newland | Sally | Newfoundland | Panda | TD |
| Nicholls | Derek | Golden Retriever | Amber | TD |
| Nicholls | Derek | Golden Retriever | Amber | AM.TD |
| O'Donaughy | Barbara | Poodle | Cody | TD |
| Osmak | Dale | Springer Spaniel | Magnum | TD |
| Owen | Fern | Rottweiller | Raisin | AM.TD |
| Owen | Fern | Rottweiler | Raisin | AM.TDX |
| Owen | Fern | Rottweiler | Raisin | TD |
| Parker | Arlene | Standard Poodle | Char | TD |
| Parker | Arlene | Standard Poodle | Coal | TD |
| Parsons | Evelyn | Bouvier | Tallie | TD |
| Parsons | Evelyn | Bouvier | Amy | TD |
| Patterson | Dianne | Irish Setter | Logan | TD |
| Perkins | Sarah | English Cocker | Pippin | TD |
| Peters | Rob | Rottweiler | Isaac | TD |
| Puharich | Vesna | Rottweiler | Haydn | TD |
| Purewal | Lesley | Doberman | Viper | TD |
| Schmitz | Peter | German Shepherd | Rex | TD |
| Simon | Steve | Rottweiler | Flash | TD |
| Simpson | Terrie | English Springer | Amie | AM. TD |
| Simpson | Terrie | English Springer | Amie | TDX |
| Simpson | Terrie | English Springer | Buddy | AM. TD |
| Simpson | Terrie | English Springer | Buddy | TD |
| Simpson | Terrie | English Springer | Buddy | TDX |
| Stead | Katherine | Doberman Pinscher | Duncan | TD |
| Stelfox | John | German Shepherd | Smokey | TD |
| Stelfox | John | German Shepherd | Smokey | TDX |
| Stradling | Dee Dee | Bloodhound | Ellie May | TD |
| Tetlock | Bonnie | Basset Hound | Melissa | TD |
| Tetlock | Bonnie | Basset Hound | Ebony | TD |
| Tetlock | Bonnie | Basset Hound | Jazzi | AM.TD |
| Tetlock | Bonnie | Basset Hound | Tommy | TD |
| Tetlock | Bonnie | Basset Hound | Jess | TD |
| Tetlock | Bonnie | Basset Hound | Jazzi | TD |
| Tetlock | Bonnie | Basset Hound | Fuzz | TD |
| Tetlock | Bonnie | Basset Hound | Angie | AM. TD |
| To | Caron | Golden Retriever | Diarmid | TD |
| Tomlin | Karen | Golden Retriever | Chester | TD |
| Volard | Francis | German Shepherd | Reba | TD |
| Watson | Nadine | Golden Retriever | Mickey | TD |