Tracking Books Videos & Equipment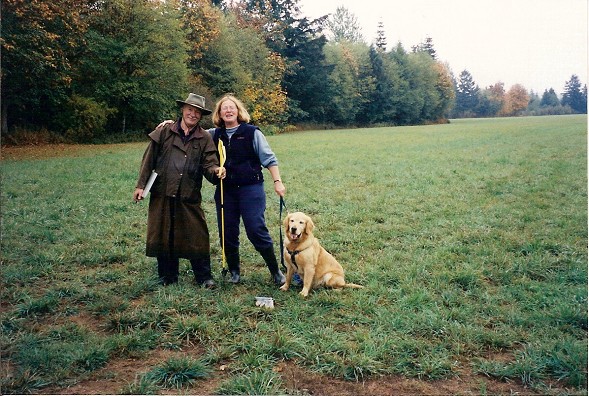 The above picture is Sue Sorensen with Andie her Golden Retriever receiving his Can. TDX
Tracking Books Videos & Equip.
A source for purchasing products that relate to Tracking Dogs.
Canadian Kennel Club, American Kennel Club & Schutzhund style training .
NOTE: NEW Supplier of HARNESSES added to website.
" NORDKYN OUTFITTERS "
See " Link " below in Suppliers Listing
Excellent Resource Material:
The Audible Nose: Training Your Newfoundland To Track by Judi Adler
Second edition, October 2007. Softcover, 294 pages. Without exception, the most extensive tracking book available. Written with Newfoundlands in mind but applicable for any breed. Full instruction for both TD and TDX level tracking. "The Audible Nose" helps you every step of the way with multiple suggestions and solutions for every situation encountered during tracking training. Over 250 illustrations and dozens of photographs make the book entertaining and the information easy to understand. Chapters include how to begin, intermediate tracking, article indication, adding distance, terrain changes and obstacles, aging, motivation, and dozens more. A more detailed description is available at www.sweetbay.com under "books for sale."
Price:
US residents: $40.00 for the book plus $12.00 first class postage (USD $52.00).
Canada residents: $40.00 for the book plus $17.50 first class postage and handling (USD $57.50).
Payment to be made via a U.S. money order, U.S. cash, or a check drawn on a U.S. dollar account. (Canadian checks with "payable in US dollars" handwritten in will not be ccepted. Credit cards, PayPal, or wired funds also not accepted.)
Overseas: contact Judi Adler for correct price. (Payment must be via U.S.money order or foreign draft or U.S. cash. Credit cards, PayPal, or wired funds are not accepted.)
Send your order and payment (payable to Judi Adler):
Judi Adler
12320 SW Malloy Way
Sherwood OR
97140
USA
Telephone: 503-682-0604
Email: sweetbay@teleport.com
Canine Outfitters
The Working Dog Store – Training Equipment
DogSport Gear
Training Equipment
For Dog Trainers
Training Equipment
Leerburg Video
Training Video/DVDs and other Equipment
Nordkyn Outfitters
Tracking Harnesses
Pawmark
Tracking Equipment & Accessories
Working Dogs Book Store
Tracking Books & Articles
Useful Links
Books & Articles from Cross Country Tracking Club