Tracking Students – All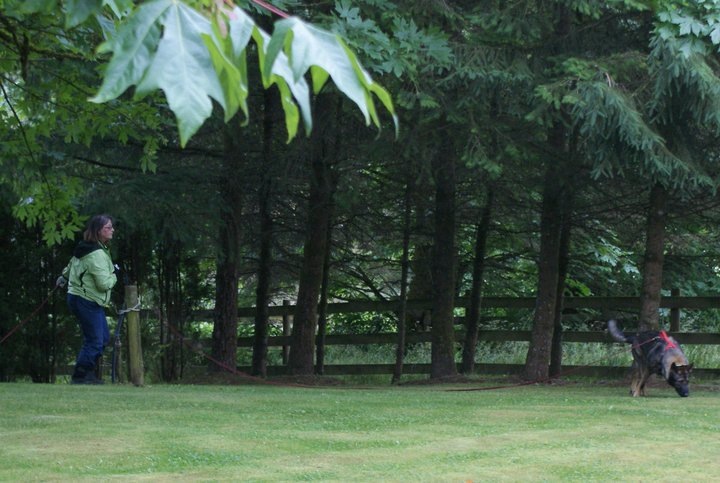 The above picture shows Ginny Anderson with Maximus TD, German Shepherd
working towards TDX title.
Tracking Students
Surrey Dog Obedience Training Club
Tracking Students (Pure and Mixed Breeds)
This page is dedicated to all Tracking Dogs. those with us today and those who have passed on, but will never be forgotten.
I would like to take this opportunity to acknowledge the accomplishments of the many Handlers and their Canine Companions who I have had the pleasure in some way being involved in the training of these teams in tracking since 1978 and are still going so many years later.
Many individuals with purebreds go onto receive degrees and move into other important working functions in Tracking in Canada and the USA. But those dogs recognized for their accomplishments are not only Purebreds. Dogs that are Mixed Breeds and Unregistered Purebreds have demonstrated their above and beyond ability to their scenting characteristics and devotion in this activity.
In some cases names have been omitted due to information not being available when transcribed from our archives. If you are able to assist us in naming where possible it would be much appreciated.
Please email the information to gary_roe@gentlepaws.com. Should there be any other omissions or individuals left off this list please advise at the email address previously stated above.
Thank you again and good tracking In the future.
Gary
| Last Name | First Name | Breed of Dog | Dog Name |
| --- | --- | --- | --- |
| Acton | Brenda | Mix | Keihsa |
| Acton | Brenda | Beagle | Tulsa |
| Adams | David | German Shepherd | Ryker |
| Adams | Ron | Rottweiler | Willie |
| Aggett | Denyse | German Shepherd | Penny |
| Aldred | Stephen | Australian Cattle Dog | Nixe |
| Ammann | Karleen | German Shepherd | Frisco |
| Ammann | Karleen | German Shepherd | Leah |
| Ammann | Karleen | German Shepherd | Nitro |
| Ammann | Karleen | German Shepherd | Emma |
| Anderson | Barbara | Border Collie | Japhet |
| Anderson | Ginny | German Shepherd | Maximus |
| Anderson | Margaret | German Shepherd | Shadow |
| Arthur | Anne-Marie | Amber Foxhound | Toby |
| Austin | Linda | Golden Retriever | No Name |
| Austin | Martin | English Springer Spaniel | Vale |
| Backosti | Bonnie | Golden Retriever | Tessa |
| Backosti | Bonnie | Golden Retriever | D.J. |
| Bainbridge | Michelle | Pitbull | Debo Burstyk |
| Baker | Randy | Dalmation | Patch |
| Baldwin | Martha | Australian Shepherd | Austin |
| Bardell | Mike | Norrbottenspets | Keetu |
| Barker | Michael | Doberman | Reble |
| Barker | Linda | Doberman | Maggie |
| Barnes | Jack | Golden Retriever | Bridgid |
| Battley | Eileen | Golden Retriever | Meara |
| Battley | Eileen | Golden Retriever | Megan |
| Battley | Eileen | Golden Retriever | Darby |
| Bean | Roger | Karelian Bear Dog | Kasey |
| Beaton | Julia | Papillon | Della |
| Beaton | Margaret | Whippet | Snapper |
| Beaulieu | Carol | Golden Retriever | Barley |
| Beaulieu | Patrick | Golden Retriever | No Name |
| Beckett | Brenda | Doberman | Cassy |
| Beckett | Dan | Doberman | No Name |
| Belanger | Paul | Basset Hound | Isis |
| Belanger | Bette | Basset Hound | Bonni |
| Bell | Lorna | Weinmaraner | Madison |
| Benesh | Debbie | Sussex Spaniel | Hudson |
| Benger | Maureen | Beagle | Boomer |
| Bennett | Janice | Dalmation | No Name |
| Bernoth | Jodi | Labrador X | Keira |
| Bitcon | Kora | German Shepherd | Zonk |
| Bitcon | Jack | German Shepherd | Arroe |
| Blair | Cheryl | German Shepherd | Lindsay |
| Bledsoe | Mitch | Rhodesian Ridgeback | Axel |
| Bodell | Margaret | English Springer Spaniel | Joey |
| Boettcher | Roger | English Springer Spaniel | Tangi |
| Bolivar | Anne | Weinmaraner | Hailey |
| Botterill | Eleanor | Belgian Sheepdog | Lacey |
| Bowes | Pam | Rottweiler | Kwan |
| Bowman | Terry | Chocolate Labrador | Bear |
| Brace | Anita | German Shepherd | Smokey |
| Bradley | Sandy | Goldenn Retriever | Penny |
| Brady | Gayle | Chesapeake Retriever | Fletcher |
| Brown | Louise | English Springer Spaniel | Ruddles |
| Brown-Vetrie | Judy | Rottweiler | Monty |
| Bruner | Judy | Cairn Terrier | Amy |
| Bruner | Judy | Cairn Terrier | Abigael |
| Buechert | Marian | Basenji | Zira |
| Buonassisi | Anne | Dalmation | Rockey |
| Byam | Andrea | Golden Retriever | Sam |
| Cacic | Audrey | German Shepherd | Scout |
| Cameron | Maggie | Golden Retriever | Taisa |
| Campbell | Merle | Rottweiler | Juno |
| Cannell | Michelle | German Shepherd | Lakota |
| Capadovca | Tracey | Border Collie | Pepper |
| Carlson | Taog | Miniature Schnauzer | Molly |
| Carlson | Don | Rottweiler | Khofo |
| Carrow | Nancy | German Shepherd/Akita X | Maxwell |
| Cartier | Terri | Golden Retriever | Trevor |
| Casswell | Kelly | German Shepherd | Tarr |
| Castonguay | Mark | Newfoundland | Panda |
| Cavaleri | Franco | Boxer/Lab X | Dexter |
| Chan | Karen | Boxer | Dancer |
| Chandler | Margaret | German Shepherd | Wotan |
| Charles | Mary-Anne | German Shepherd | Riley |
| Cheung | Cecila | Belgian Sheepdog | Brina |
| Chorney | Ernie | Golden Retriever | Ginger |
| Chow | Colleen | Malinous | Lela |
| Christy | Jane | Golden Retriever | Steamer |
| Christy | Jane | Golden Retriever | Teddy |
| Clark | Kathleen | German Shepherd | Brooklyn |
| Clark` | Tim | Belgian Teruvren | Macou |
| Clark` | Gordon | Golden Retriever | No Name |
| Clough | Ronald | Great Pyrenees | Nanock |
| Cody | Carol | Labrador | Booger |
| Coil | Sigrid | Weimaraner | No Name |
| Combes | Georgia | Malamute | Koriak |
| Cook | Doug | German Shepherd | Harvey |
| Cooper | Kathy | Rottweiler | Uwe |
| Coren | Stanley | Cairn Terrier | No Name |
| Corneille | Rory | Standard Poodle | Sadie |
| Corry | Terry | Bernese Mountain Dog | Maggie |
| Corwin | Marcella | Doberman | Bruno |
| Cowen | Diane | Beagle | Amber |
| Crandlemire | Perley | German Shepherd | Storm |
| Crowley | Barbara | Newfoundland | Bijou |
| Curran | Joy | Papillon | Magic |
| Curran | Joy | Bull Dog | Ruffy |
| Curran | Joy | Bulldog | Clemmie |
| Daniels | Lori | Vizsla | Rodin Rody |
| Davidson | Bill | German Shepherd | Dubhgall |
| De Vet | John | Great Dane | Beau |
| Deane | Stacey | German Shepherd | Storm |
| Deanes | Stacey | German Shepherd | Storm |
| Dedeis | Jodi | Weinmaraner | Megan |
| Denison | Maja | Beagle | C.B. |
| Devaney | Margaret | Dalmation | Chester |
| Devereaux | Glee | Mix | Jax |
| Dick | Bonnie | Bernese Mountain Dog | Banfield |
| Dick | Bonnie | Basenji | Krammer |
| Dick | Bonnie | Pomarianum | Nelson |
| Dickie | Patricia | Bullmastiff | No Name |
| Dilworth | Jan | Dalmation | Alex |
| Divin | Outi | Drever | Jeffery |
| Doman | Dave | Golden Retriever | Misty |
| Doman | Tony | Golden Retriever | Penny |
| Doman | Jean | Golden Retriever | Penny |
| Doman | Dave | Golden Retriever | Sarah |
| Doman | Dave | Golden Retriever | Whistler |
| Doman | Dave | Golden Retriever | Penny |
| Dornan | Carrie | Bullmastiff | No Name |
| Down | Greg | Rhodesian Ridgeback | Makula |
| Downie | Peg | Basset Hound | Samantha |
| Downie | Peg | Basset Hound | Sidney |
| Druskin | Karen | Akita | Raven |
| Dueck | Shelley | Boxer | Dina |
| Dueck | Carson | Bullmastiff | Madison |
| Dumbleton | Sandi | Norweigen Elkhound X | Decker |
| Duvac | Brenda | German Shepherd X | Linus |
| Dyer | Rosemary | Golden Retriever | Rocky |
| Egyed | Kathy | Weimaraner | No Name |
| Elias | Christopher | Rottweiler | No Name |
| Elliott | Dee | Golden Retriever | Gunner |
| Epps | Dianna | Golden Retriever | No Name |
| Eskuri | Jane | Cocker Spaniel | Sailor |
| Eskuri | Jane | Great Dane | Sookie |
| Farrell | Florence | Doberman | Mandy |
| Faulkner | Terry | German Shepherd | MacKenzie |
| Felker | Kathy | Golden Retriever | Sydney |
| Fenton | Doug | Golden Retriever | Abel |
| Fergusson | Bonnie | Newfoundland | Meara |
| Finch | Sandra | Weimaraner | Berkley |
| Findlay | Christa | Labrador X | Casey |
| Florkow | Marilyn | Rottweiler | Taurus |
| Francescutti | Lydia | Doberman | Kiba |
| Furstenwald | York | German Shepherd | Brodie |
| Galan | Margaret | Border Collie | Chase |
| Galan | Margaret | Border Collie | Ryder |
| Gawle | Mary | American Cocker Spaniel | Oskar |
| Gear | Lynn | Rottweiler | Flash |
| Gervais | Mark | German Shepherd | Bow |
| Gesche | Marion | Chesapeake Retrieve | Chelsea |
| Gibbs | Sheena | Flat-Coated Retriever | Quinn |
| Glowacki | Darek | No Name | No Name |
| Gordichuk | Marian | Huntaway | Peter |
| Gray | Eula | Min. Smooth Dachshund | Tia 2 |
| Grayston | Joanna | Beagle | Trigger |
| Greene | Scott | Rottweiler | Fridge |
| Hagan | Tootie | Golden Retriever | Pippa |
| Hall | Auril | Rhodesian Ridgeback | No Name |
| Hamilton | Julie | English Springer Spaniel | Cooper |
| Hamilton | Charmain | Australian Shepherd | Darcy |
| Hammond | Tom | Newfoundland | Ruby |
| Hansen | Tor | Golden Retriever | Odin |
| Harrison | Patrick | Yellow Labrador | Hogan |
| Hartley | Christine | German Shepherd | Cinder |
| Hartnett | Frank | German Shepherd/Spaniel X | Niko |
| Hatton | Mike | German Shepherd | Max |
| Haward | Ken | English Cocker Spaniel | Caper |
| Haward | Kathy | English Cocker Spaniel | Salty |
| Hawk | Sunnie | Rottweiler | Deacon |
| Head | Mike | Bullmastiff | Jake |
| Heese | Vickie | German Shepherd X | Boston |
| Heese | Vickie | Yellow Labrador | Keesha |
| Henderson | Cathie | Malamute | Cheska |
| Hershberg | Martin | Golden Retriever | Beau |
| Hicks | Marlon | Akbash | Max |
| Highton | Susan | Golden Retriever | Murphy |
| Hill | Kevin | Fila Mastiff | Bear |
| Hill | Cyndy | English Cocker Spaniel | Pippi |
| Hoffman | Kim | Cane Corso | Dea |
| Holliway | Judith | Golden Retriever | Jane |
| Holtz | Lynn | Samoyed | Artyk |
| Holtz | Lynn | Shih Tzu | Mega |
| Hooge | Dennis | German Shepherd | Faro |
| Horick | Tammy | Husky X | Keji |
| Howley | Merilee | Tybo | Magic |
| Hubbard | Diane | Golden Retriever | Sophie |
| Huggett | Carolyn | German Shepherd | Odin |
| Hunt | George | German Shepherd | Brutus |
| Hunt | George | Black Labrador | Shadow |
| Hunt | George | German Shepherd | Duke |
| Hunt | George | German Shepherd | Alfie |
| Huskisson | Sharon | German Shepherd | Ben |
| Huskisson | Sharon | German Shepherd | Cassie |
| Irving | Judy | Black Labrador | Ceilidh |
| Irving | Judy | Black Labrador | Wicca |
| Ivins | Susan | Golden Retriever | Chelsea |
| Izowski | Lynn | Rhodesian Ridgeback | Shani |
| Jakob | Beatrice | Labrador X | Ted |
| James | Pat | Tybo | Dynah |
| Jeffers | Scott | Cocker Spaniel X | Molly |
| Jeske | Agnes | Belgiun Sheepdog | Kyna |
| Jeske | Agnes | Belgiun Sheepdog | Wufi |
| Jesson | Carol | Bullmastiff | Buttercrunch |
| Jewell | Moira | Flat Coated Retriever | Fern |
| Jobidon | Line | German Shepherd | Bruno |
| Johnson | Bill | Golden Retriever | Spike |
| Jones | Jane | Golden Retriever | Hunter |
| Jones | Jane | Belgiun Teruvren | Kiara |
| Jones | Jane | Belgiun Teruvern | Raia |
| Jurik | Joe | Hungarian Kuvas | Thunder |
| Kadoke | Heidi | Corgi | Brill |
| Karsanji | Meena | German Shepherd | Maximus |
| Kavanagh | Gerry | Siberian Husky | Koko |
| Kay | Margaret | Bernese Mountain Dog | Esta |
| Keenan | Tim | Belgian Teruvern | No Name |
| Knight | Leah | Doberman | Stella |
| Kobler | Christine | Golden Retriever | Keeza |
| Koch | Jill | German Short Hair Pointer | Ponty |
| Kool | Carolyn | Akita | Tobi |
| Koop | Brenda | Golden Retriever | Lucy |
| Kopfensteines | Doug | German Shepherd | Zak |
| Kostello | Guy | Basset Hound | Laura |
| Kotler | Marc | Basset Hound | Suzy |
| Kraushar | Cindy | German Shepherd | Crockett |
| Kraushar | Cindy | Golden Retriever | Sadie |
| Krimmer | Lorraine | Golden Retriever | Jessie |
| Krimmer | Lorraine | Golden Retriever | Kat |
| Krimmer | Lorraine | Golden Retriever | Mindy |
| Lamb | Doug | Mixed Breed | Copper |
| Lambert | Deanne | Rottweiler | Amy |
| Lamount | Flynn | Golden Retriever | No Name |
| Lanchick | Mike | Siberian Husky | Nahanni |
| Lann | Kelly | Belgiun Teruvren | Neeka |
| Larsen | Michelle | Rottweiler | Cooper |
| Lauer | Lauer | German Shepherd | Emma |
| Le Blanc | Mark | Bloodhound | Billie |
| Lee | Anita | Golden Retriever | Mika |
| Leverett | Terri | Great Dane | Gus |
| Lindroth | Carole | German Shepherd | Rob |
| Lister | Freda | Bloodhound | Ploty |
| Loeck | Don | Catahoula | Bruce Wayne |
| Loeppky | Sandra | Blue Heeler | Bandit |
| Logan | Doug | German Shepherd | Apollo |
| Logan | Della | German Shepherd | Apollo |
| Loveday | Christine | Husky X | Kodi |
| MacDonald | Janet | Norfolk Terrier | Cromer |
| MacDonald | Joyce | Rottweiler | Jessie |
| MacDonald | Janet | Miniature Schnauzer | Tuppy |
| MacGregor | Karen | Black Labrador | MisterMac |
| Mackie | Tom | English Cocker | Merlin |
| MacLean | Karen | Australian Cattle Dog | Simon |
| MacMillan | Betty | English Springer Spaniel | Alpha |
| MacMillan | Betty | English Springer Spaniel | Emma |
| MacMillan | Betty | English Springer Spaniel | Molly |
| MacMillan | Betty | Siberian Husky | Max |
| Maddison | Laurie | Golden Retriever | Caber |
| Major | Melissa | German Shepherd | Jax |
| Malthias | Suzanne | German Shepherd X | No Name |
| Mathews | Wayne | Rottweiler | Brew |
| Matwichuk | Gail | Standard Poodle | Kane |
| Maxwell | Allison | Bullmastiff | Buckwheat |
| May | Pam | Border Collie | Bert |
| May | Geoff | Rottweiler | Jock |
| May | Kristina | N.S.D.T. Retriever | Topper |
| May-Lang | Elsie | Australian Shepherd | Brandi |
| McCarl | Paul | Labrador | Chip |
| McClure | Louis | American Eskimo | Mischief |
| McDonald | Bonnie | German Shepherd | Brinks |
| McDonald | Bonnie | German Shepherd | Calpurnia |
| McDonald | Bonnie | German Shepherd | Dallas |
| McGarva | Jamie | Rottweiler | Java |
| McGill | Mary-Louise | Min. Smooth Dachshund | Tara |
| McLaren | Karen | Great Dane | Lara |
| McLennan | Kathy | Newfoundland | Nana |
| McLennan | Rob | Newfoundland | Tara |
| McLiena | Freda | Australian Shepherd | Keeper |
| McNeil | Deborah | Great Pyrenees | Barney |
| McNeil | Deborah | Newfoundland | Rosie |
| Meneley | Joseph | Rhodesian Ridgeback | Onslo |
| Mercer | Richard | German Shepherd | Isaac |
| Messier-Unwin | Debbie | Chihuahua | T.J. |
| Meyers | Bev | Belgian Sheepdog | Tria |
| Mills | Ainslie | Golden Retriever | Tudor |
| Mingo | Jenny | Bernese Mountain Dog | Bobby |
| Mitchell | Kathryn | Labrador | Katie |
| Molsberry | Doug | Golden Retriever | Max |
| Monahan | Perry | Irish Setter | Scoop |
| Moorcroft | Julie | Doberman | Aaron |
| Moorcroft | Julie | Doberman | Lance |
| Moore | Erin | Whippet | Jenny |
| Morrison | Glen | German Shepherd | Tye |
| Moss | Patricia | Golden Retriever | Toby |
| Mullen | Caroline | Border Collie X | Flint |
| Murray | Cheryl | German Shepherd | Casa |
| Murtach | Dianna | Rottweiler | Giselle |
| Muska | Terralynn | Malmamute X | Kaijit |
| Neal | Kathy | N.S.D.T. Retriever | Echo |
| Neil | Maureen | German Shepherd | Arda |
| Neil | Maureen | German Shepherd | Arich |
| Neil | Mary | German Shepherd | Dana |
| Neil | Mary | Mininature Pinscher | McCoy |
| Neil | Maureen | German Shepherd | Nico |
| Neil | Rose | German Shepherd | Shayza |
| Neil | Maureen | German Shepherd | Kyra |
| Neufeld | Emily | Standard Poodle | Nova |
| Neumann | Doug | Catamoula | Jesse |
| Newlands | Sally | Newfoundland | Panda |
| Newlands | Sally | Newfoundland | Sasquatch |
| Newlands | Cathy | Newfoundland | Gale |
| Newlands | Sally | Newfoundland | Sunny |
| Nicholls | Derek | Golden Retriever | Amber |
| Nielsen | Kristine | Rhodesian Ridgeback | No Name |
| Nissan | Carla | Doberman | Jake |
| O'Callaghan | Mary | White German Shepherd | Zoe |
| O'Donaughy | Barbara | Standard Poodle | Cody |
| O'Grady | Darcy | Black Labrador | Roan |
| O'Toole | Kelly | German Shepherd X | Roxy |
| Osmak | Dale | English Springer Spaniel | Magnum |
| Owen | Dagny | German Shepherd | Annie |
| Owen | Fern | Rottweiler | Raisin |
| Owen | Fern | Bull Terrier | Kewpie |
| Pagenhardt | Terry | Airedale | Rags |
| Pahlke | Bernie | Bull Terrier | Bodger |
| Parker | Arlene | Standard Poodle | Char |
| Parker | Frank | Standard Poodle | Coal |
| Parker | Margaret | Rottweiler | Jake |
| Parker | Marg | German Shepherd | Carrie |
| Parsons | Ev | Bouvier Des Flanders | Token |
| Parsons | Ev | Bouvier Des Flanders | Luke |
| Parsons | Ev | Bouvier Des Flanders | Tallie |
| Parsons | Ev | Bouvier Des Flanders | Amy |
| Paterson | Diane | Irish Setter | Logan |
| Pearson | Karla | Blue Heeler | Lenny |
| Peck | Andy | German Shepherd | Jager |
| Peden | Tom | Bouvier Des Flanders | Kara |
| Perkins | Val | German Shepherd | Deimos |
| Perkins | Sarah | English Cocker Spaniel | Pippin |
| Peters | Rod | Rottweiler | Issac |
| Petrovich | James | German Shepherd | Brandie |
| Pogue | Dawson | Leonberger | Deakin |
| Pogue | Dawson | Leonberger | Deakin |
| Polibinski | Chris | Labrador X | Max |
| Pollock | Maureen | German Shepherd | Jesse |
| Pont | James | Doberman X | Toby |
| Popaiuk | Dina | German Shepherd | Pepper |
| Pope | Irene | Rottweiler | Cindy |
| Potter | Sandy | German Shepherd | Dallas |
| Potter | Sandy | German Shepherd | Desarie |
| Poustie | Sheila | Akita | Briar |
| Price | Margaret | German Shepherd | No Name |
| Price | Susan | German Shepherd | No Name |
| Priester | Ricky | Airedale | Buck 2 |
| Pritchard | Jane | Golden Retriever | Jenny |
| Puharich | Vesna | Rottweiler | Haydn |
| Purewal | Lesley | Doberman | Viper |
| Put | Clasina | Rottweiler | Ben |
| Radnidge | Louise | Golden Retriever | Flyer |
| Radnidge | Louise | Golden Retriever | Tasha |
| Remcke | Connie | German Shepherd | Ben |
| Roberts | Selena | Cocker Spaniel X | Molly |
| Roberts | Rebecca | N.S.D.T. Retriever | Sender |
| Roch | Shelly | Belgiun Teruvren | Legend |
| Rogers | Jackie | Labrador | Vali |
| Roman | Marion | Chesapeake Retriever | Chelsea |
| Rose | Fiona | German Shepherd | Togi |
| Rosenow | Nancy | Black Labrador | Emma |
| Ross | Lesley | Rottweiler | Jake |
| Rossi | Cora | German Shepherd | No Name |
| Rukavina | Sue | Yellow Labrador | Koda |
| Sabo | Arthur | Collie (Rough) | Cupid |
| Sabourin | Sharon | Beagle | Jessie |
| Salmon | Brenda | Black Labrador | Kaila |
| Samuels | Karen | Husky X | Juno |
| Sargent | Louise | Great Dane | Moses |
| Schierer | Don | Golden Retriever | Tye |
| Schmitz | Peter | German Shepherd | Rex |
| Scholten | Gary | Bouvier des Flandres | Simba |
| Schroeder | Drew | Rottweiler | Paris |
| Scott | JoAnne | Bloodhound | Myra |
| Severn | Dorothy | Schipperke | Torrie |
| Shultz | Sheila | Rottweiler | Sadye |
| Simon | Steve | Rottweiler | Flash |
| Simpson | Terrie | English Springer Spaniel | Amie |
| Simpson | Terrie | English Springer Spaniel | Buddy |
| Simpson | Terrie | English Springer Spaniel | Cash |
| Simpson | Terrie | Leonberger | Kaleigh |
| Simpson | Terrie | Leonberger | Kaleigh |
| Smith | Terri | Malinous | Joey |
| Smith | Cathy | German Shepherd | Cassandra |
| Snaden | Bill | German Shepherd | Rebel |
| Snell | Harold | Beagle | Katie |
| Speevak | Al | Old English Sheepdog | Shadow |
| Spencer-Moss | Kimberly | German Short Hair Pointer | Frankie |
| Spenger | Margaret | Bernese Mountain Dog | Esta |
| St. Clair | Una | Yellow Labrador | Jack |
| Stanger | Marie | N.S.D.T. Retriever | Tanner |
| Stead | Katherine | Doberman | Duncan |
| Steffonson | Ona | German Shepherd | No Name |
| Steinkrug | Kurt | German Shepherd | Arko |
| Stelfox | John | German Shepherd | Smoky |
| Stephenson | Leslie | German Shepherd | Santana |
| Stepp | Nancy | German Shepherd | King |
| Stevenson | Sharon | Cocker Spaniel | Sacha |
| Stevenson | Sharon | Malonious | Star |
| Stockman | Marvin | Rottweiler | Cain |
| Stradling | Dee Dee | Bloodhound | Ellie May |
| Strutinski | Chris | Rottweiler | No Name |
| Strutinski | Gerry | Rottweiler | No Name |
| Surette | Julia | Rottweiler | No Name |
| Sutherland | Dawn | German Shepherd | Portia |
| Sutherland | Julia | German Shepherd | Portia |
| Sutherland | Wendy | Wheaton Terrier | Norman |
| Sutherland | Natalee | Black Labrador | Bailey |
| Swan | Joanell | German Short Hair Pointer X | Rickard's Red |
| Sweetman | Kevin | Weimaraner | China |
| Syssoloff | Kate | German Shepherd | Loni |
| Takahashi | Cara | Doberman | Harley |
| Taylor | Christopher | Border Collie X | Emma |
| Taylor | Rose | Border Collie X | Pooch |
| Tetlock | Bonnie | Basset Hound | Bubbles |
| Tetlock | Bonnie | Basset Hound | Laura |
| Tetlock | Bonnie | Basset Hound | Melissa |
| Tetlock | Bonnie | Basset Hound | Tommy |
| Tetlock | Bonnie | Basset Hound | Fuzz |
| Tetlock | Bonnie | Basset Hound | Ebony |
| Thorne | Dave | Akita | Quake |
| Thorp | Shelley | No Name | No Name |
| Thurley | Alastair | Black Labrador | Toby |
| Tiebe | Glen | Collie X | Shasta |
| Tinckler | Lynda | English Cocker Spaniel | Guiness |
| To | Karen | Golden Retriever | Diarmid |
| Tomblin | Karen | Golden Retriever | Chester |
| Tracy | Terri | Am. Cocker Spaniel | No Name |
| Tracy | Carol | Rhodesian Ridgeback | Sina |
| Trap | Wilma | Giant Schauzer | Tessa |
| Treffrey | Jim | Siberian Husky | No Name |
| Tsumura | Lila | Blue Heeler X | Blue |
| Tuovinen | Matti | German Shepherd | No Name |
| Van-Allen | Nancy | Norrbottenspets | Kodi |
| Vanderberg | Frank | Rottweiler | Raisin |
| VanHorn | Tara | German Shepherd | Kala |
| Vaughan | Arnold | Labrador X | Daisy |
| Vernon | Janice | Dachshund | Dasher |
| Volard | Francis | German Shepherd | Reba |
| von Grohs | Barb | Australian Shepherd | Cedar |
| Waikley | Tracy | Red Coon Bloodhound | Boone |
| Walters | Caren | German Shepherd | Breman |
| Warm | Carol | Airedale | Whisky |
| Warren | Margaret | German Shepherd | Jazz |
| Warriner | Joanne | German Shepherd | Spirit |
| Warriner | Joanne | German Shepherd X | Shanti |
| Watson | Nadine | Golden Retriever | Mickey |
| Weaver | Carole | German Shepherd | Woody |
| Webb | Mick | Smooth Fox Terrier | Reggie |
| Wedmark | Greg | German Shepherd | Saber |
| Weir | Dave | Bloodhound | Caleb |
| Westcott | Ed | German Shepherd | Rudy |
| Whatcott | Anne | Labrador | Tannin |
| White | Doug | Belgian Shepherd | Athos |
| Whyte | Sandra | Husky X | Jaeda |
| Wigton | Alison | German Shepherd | Daisy |
| Wildman | Rick | German Shepherd | No Name |
| Williams | Corinna | English Cocker Spaniel | Alice |
| Williams | Corinna | Doberman | Jolene |
| Williams | Corrina | Boxer | No Name |
| Wilmot | Elizabeth | Golden Retriever | Hudson |
| Wilmot | Darrel | Golden Retriever | Satchel |
| Wilson | Lance | Rottweiler | Inka |
| Wilson | Patricia | Weimaraner | Elkie |
| Woodward | Bonny | Malmute | Nanug |
| Wright | Brian | German Shepherd | Kobe |
| Yee | Doug | Husky X | Keji |
| Young | Colleen | German Shepherd | Rex |
| Young | Denine | German Shepherd | Rocky |
| Young | Colleen | Labrador X | Sadie |
| Zaeaglia | Margaret | Newfoundland | Docwra |
| Zess | Denine | German Shepherd | Jaegar |